Proton Mail has recently rebranded itself as Proton and now provides a suite of services (apps) instead of you having to subscribe to their mail and VPN services à la carte. While testing out their apps, this package reminded me of Google One and this post is a comparison of the two in terms of pricing, features and, of course, privacy.
Proton Unlimited
Proton Mail and Proton VPN are still available for subscription individually and users are not forced to get the full suite of Proton Unlimited, although the bundle provides the most value.
Proton Unlimited includes Mail, VPN, Drive and Calendar – 500GB costs $11.99 monthly ($9.99/month with the annual plan and $7.99/month with the 2 year plan)
Proton Mail Plus (mail+calendar only plan) – 15GB costs $4.99 monthly ($3.99/month with the annual plan and $3.49/month with the 2 year plan)
Proton VPN-only plan costs $9.99 monthly ($5.99/month with the annual plan and $4.99/month with the 2 year plan)
Proton is focused on privacy and features end-to-end encryption for its mail, calendar and storage apps. The VPN service also has a no logs policy. With the rebrand to Proton Unlimited, it looks like Proton wants to provide easy-to-use privacy focused apps.
Proton Mail
End-to-end encryption for mail is something that can be set up with any mail provider using a mail client like Thunderbird and PGP keys. But for most users, this involves a learning curve that may not always be easy. Proton Mail aims to fill this gap. If both the sender and the recipient are using Proton Mail, then sending an end-to-end encrypted mail is as easy as hitting "Send". If they aren't the process is slightly different:
Sender & recipient on Proton Mail: Just hit send
Sender on Proton, recipient on different mail service: Create an encrypted mail in Proton and send. Recipient receives a link to a password-protected page with the mail's content. Sender gives the password to recipient through secure messaging or offline.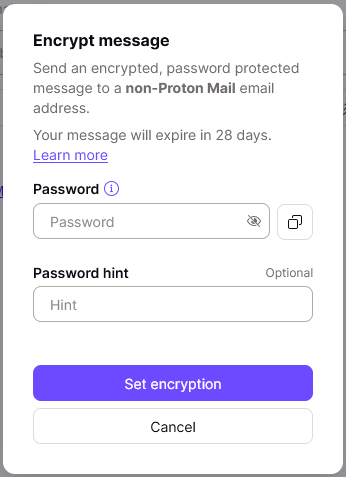 You can also send mails with an expiry date so they are deleted after the specified date.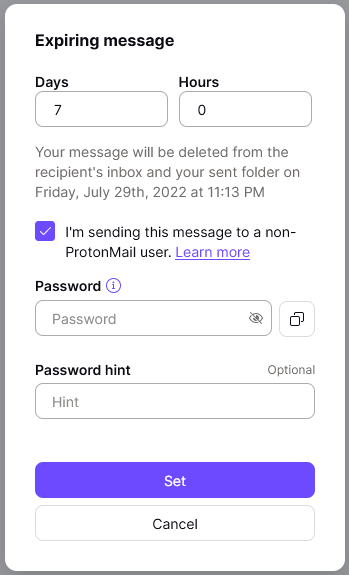 A brief look at end-to-end encryption in emails
As the name suggests, E2E Encryption (E2EE) is when the mail is encrypted at its origin, stays encrypted throughout its journey and remains encrypted when stored at its destination. Even when the mail has to be stored in the mail provider's servers during its journey, it remains encrypted. This means that it is impossible for the mail provider to view your mail's contents. When you send an email with Proton, it does this encryption process automatically before sending out the mail. More details of how E2EE works is available at Proton's Blog.
A point to note is that E2EE works only if both the sender and recipient are using PGP keys or the same E2EE email service – in this case, Proton. To get around this, Proton uses zero-access encryption. Basically, Proton encrypts your mails to outside recipients with your key on its servers, so it can't access your mail contents. This also applies when you receive mails on your Proton account from external sender. Proton will immediately encrypt mails once you receive it with your key so it still can't access your mail contents.
This whole concept makes more sense when viewed in comparison to a service like Gmail. Gmail also provides mail encryption – both in-transit and at rest. But the difference is that the mail contents are encrypted using Gmail's keys and not your keys. So, in theory, no one can view your mails except you and Gmail. Google would probably never look at your mails but the fact is that it is possible to see the mails whereas in Proton it is impossible. This is a concern when Google has to comply to with legal requests in a country to provide a user's mail contents – with Gmail it is possible for Google to access and provide these contents, with Proton it is not.
Other Features of Proton Mail
Mobile apps for Android and iOS.
It has both folders and labels to organize emails.
There is support for custom domains with its paid plans, i.e., you could use you@yourdomain.com with Proton Mail.
Proton Mail has spam filters and blocks trackers in email contents. Although its efficacy can only be measured with long-term use.
Contacts in Proton Mail are encrypted except the name & email address. Both Mail and Contacts are integrated with the Calendar.
Proton Calendar
The Calendar app is almost like any other calendar service except that all appointments and events in the calendar are stored encrypted. You can share your calendars and it has an Android app (iOS app expected in 2022).
Proton Drive
Proton Drive is part of the Unlimited plan and uses the 500GB shared with mail and calendar. As of July 2022, Proton Drive is in beta and is only available as a web app. As with other Proton apps, all files in the Drive are stored encrypted.
Based on my brief testing, file upload feels a little slow. File size of about 750KB took visibly more than second on my 200Mbps line. Proton Drive provides a Folder Upload option. Uploading a 3MB folder with about 20 files took about the same couple of seconds. I suspect that the encryption part of the process takes time to complete rather the file upload itself.
File preview is available for images, txt, markdown and PDF. I couldn't preview Office formats.
It is too early to comment on the Drive since it does not yet even have a desktop app. Sync issues and errors can only be tested after the desktop and mobile clients are released and they are expected in late 2022.
| | Proton Unlimited | Google One |
| --- | --- | --- |
| Apps | Mail, Calendar, Drive, VPN | All Google apps + VPN |
| Storage | 500GB | 2TB |
| Cost per month | $12 | $10 |
| Mail | Yes | Yes |
| VPN | Yes | Yes |
| Ad blocking VPN | Yes | No |
| Cloud Storage | Yes | Yes |
| Document Editing | No | Yes |
| Photos Management | No | Yes |
| Notes App | No | Yes (Google Keep) |
| End-to-end Encryption | Yes | No |
| Zero-access Encryption | Yes | No |
| Sync to Cloud Storage (Desktop & Mobile apps) | No | Yes |
| Custom Domains for Email | Yes | No |
Comparison of Proton Unlimited and Google One
Google One
Google One essentially provides access to all Google apps with more storage. So it comes with all standard Google apps like Gmail, Photos, Drive, Docs, Sheets, etc. The storage depends on the plan you pick.
The 100GB plan costs $1.99 per month ($19.99 annually)
The 200GB plan costs $2.99 per month ($29.99 annually)
The 2TB plan costs $9.99 per month ($99.99 annually)
The $10 plan is closest to Proton Unlimited for this comparison since it is the only plan that comes with VPN. The storage on Google One is much higher at 2TB compared to the 500GB offered by Proton Unlimited. Google One's 2TB plan can be shared with 5 other users. The list of apps are also much more than those offered by Proton. Google Photos is one such excellent app that has no equivalent in Proton. There is also no gallery view in Proton Drive to view only images from your file list similar to OneDrive.
Encryption in Google vs End-to-end encryption
As mentioned above in the E2EE section, Gmail does encrypt its mails at rest using its keys. This applies to Google Drive and other Google apps as well. The encryption keys that Google uses are stored with the highest possible security in Google's servers but if a rogue-actor manages to get access these keys, then your data (mail and files) are compromised. Compare this with E2EE, where only you have the keys – so unless your actions compromise access to your keys, your data is safe.
Google One VPN vs Proton VPN
A big difference (as of July 2022) is that Proton VPN is available almost worldwide while Google VPN is only available in 19 countries mostly in N.America and Europe.
Proton VPN provides a built-in ad-blocker
Proton VPN claims support for geo-blocked streaming services
Proton's strict no-logs policy seems similar to Google's policy although Google collects some aggregate data.
Both Google and Proton claim that their VPN service is independently audited.
You could sign-up to Proton VPN anonymously using an anonymous Proton Mail account and pay using Bitcoin or Cash. Google VPN is tied to your Google account.
Conclusion
Proton's offers limited apps compared to Google and costs more ($12 vs $10). The advantage of Proton's apps is in its focus on privacy. If you're looking to escape the Google ecosystem for the love of privacy, Proton is easy to recommend mainly because the transition to Proton Mail is easy and Proton VPN is a stable, private option. If Proton Drive can provide larger storage with support for more file formats and operating systems, it can become a competitor to Google One's highest tiered plan.
One feature of Proton Mail that Gmail doesn't provide is the custom domain support. Users who need this will have to look at Google Workspace that costs the same $12 as Proton although for 2TB storage but without VPN. The $6 Workspace plan provides 30GB and is closer to the $5 Proton Mail Plus plan. Since Google Workspace doesn't provide VPN it can be compared to Proton's mail only plan.
For home users looking for smaller storage options to just store their photos, the $2 Google One plan is hard to beat.